Overview
This text was selected as a read-aloud (or as part of a book club) for late elementary-middle school classes to incorporate content related to sustainability, energy, and climate change beyond science classes. We endeavour to provide resources that target literacy across all curriculums for many grade levels. Teachers are invited to pick-and-choose prompts, questions, and activities that best fit their students and classroom.
What You'll Need
Copy or multiple copies of "The Boy Who Harnessed the Wind" (Student Edition) by: William Kamkwamba & Bryan Mealer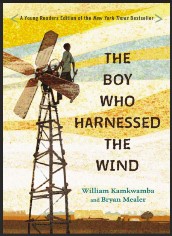 Instructions
How should I use the guide?
Through a cross-curricular, cross-cultural exploration of the continent of Africa (among texts for a book club in grade 6 social studies as the focus is on culture)
Inquiry-based, student-led, sustainability projects (connected to Earth Day)
Participate in a Global Teenager Project learning circle on global citizenship (https://globalteenager.org/)
Explore solution-focused thinkers or those who dream big to create, invent or discover new things to improve people's quality of life, demonstrate global citizenship or sustainable practices (like microloans to women in developing countries), etc. https://www.gcfbi.org/causes/women-s-empowerment/microloans-for-womens for Women – Global Children's Fund (gcfbi.org)
Focus on youth entrepreneurs, innovators, and those advocating for social change or environmental change. Launch a school-wide initiative to show how youth in Canada and across the globe are change-makers.
Incorporate this novel in conjunction with a Scholastic Literacy Place Moving Up (4-6), and Stepping Up Inquiry Kits (7-8) featuring topics on sustainability, climate change, global citizenship, protecting endangered species, etc.
SHARE: Feel free to send us photographs of your class completing any learning activities within the guide via Twitter @NBCOE.
Global Competencies